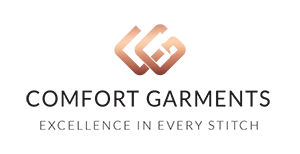 Project Brief
Established in 2003, Comfort Garments is an ISO 9001 international quality standards certified apparel factory. Comfort specializes in designing, sampling and manufacturing made to order apparels and work-wear with focus on style, function, quality and value.
The Challenge
Comfort Garments' brand image failed to communicate the brand promise. Their web presence was outdated and didn't reflect the products' quality and state of the arts facility. The company was losing business and required re-positioning and re-branding. Brand Recall was also very low.
The Solution
A new re-positioning & re-branding strategy was crafted. Consequently, a new corporate identity and eCommerce website were developed enabling the company not only to increase sales through creating new sales channel but also exceed their target customers' expectations.
Objectives vs. Achievements
Tarek has displayed great leadership skills, outstanding creativity, business acumen and a unique ability to identify and solve problems efficiently and effectively. He clearly communicates expectations and notes strengths to better improve his team's performance.
Tarek has a winning attitude that embraces the challenges and encourages collaboration.